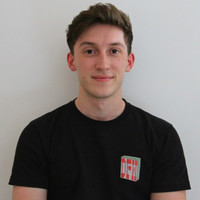 Dillon Marsden
BA (Hons) Film and Media Studies 2020
This is the culmination of my filmmaking work produced over my duration at Manchester Metropolitan University. Short films ranging from a spooky thriller, a wacky comedy sketch and a film that delves into the human emotions of the every day man. I am part of a small production team called 'Open Gate Productions' comprising of Daniel Holden, Leah Ball, and Ed Stanning, who are all friends that I have met through my degree at university. We have had a great time working together, balancing productivity with enjoyment.
Together we have produced two short films: 'Paranoia' and 'Dissonance'. Pieces of work that we have become especially proud of. Individually, we each have our own passion, interests and skills in different aspects of film production. I myself love the visual side of filmmaking such as cinematography and lighting, in addition to directing. I have discovered from producing these films that I would like to persue a career in production.
We have had the pleasure of discovering our true passion through this course and would like to think that these films act as an example of our current capabilities and our future potential. We hope you enjoy our films and if you have any feedback or questions, please don't hesitate to contact us.
Contact Dillon