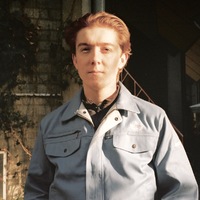 Oliver Nuttall
BA (Hons) Filmmaking 2020
As a graduate in Filmmaking at Manchester School of Art, my profile is a creative outlet in which I can present my current and past projects. I specialise in moving image documentaries, short narrative films and Virtual Reality films. The inspiration that got me into filmmaking stemmed from my background in drama/acting from the age of 7. This encouraged me to see filmmaking in a new light, focussing on the narrative. As an innovative and creative individual, I am driven by the development of new technology within filmmaking and using this to create powerful pieces of art. My work using Virtual Reality (360 degree) cameras is just the beginning of this, as I continue to research into new/alternative film technology.
Current Project - Terms and Conditions Of your Reality (VR) - 2020
Without the level of technology behind computers and phones, todays modern society would collapse. In our Virtual reality piece, we are showing how different a person's situation would be without any access to thier phones. We want the experience to be an emphasis on how people would react in an intense scenario that takes them away from their world that revolves around their mobile phone. By the end of the experience, we will have created a greater awareness of how attached we are to our devices and how a greater detachment from them can affect our lives.
Other Works shown on my website