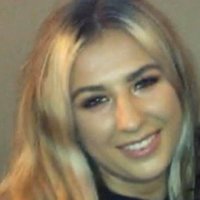 Clementine Parker
BA (Hons) Fine Art and Art History 2020
My series is made up of six 12"x12" canvases that use a combination of both stylistic, 'automatic' mark-making alongside the overriding context of my work being about contradicting what is considered 'low' and 'high' art.
I want to represent the fundamentally thought of female, 'low-status' and unskilled practice of embroidery on canvas, as miscellaneous, messy to an extent, imperfect but be representative of the laborious nature of the whole process from canvas and frame making to the embroidery itself. For example, my canvases vary in materials (cotton and linen) and colours (white and off-white). Furthermore, there is variety in the depth of two of the canvases, to the remaining four. These being; 0.7" x 2 and 1.5" x 4. The purpose of all these variations are to represent how embroidery has its own artistic value, as opposed to it previously just being considered a practical pursuit.
Movement, shape, colour and expression are all important themes throughout my work. My ideas also surround motifs of infinite interchangeability and figures never being fixed.
The way I mark-make using thread to that of the considered brush-strokes in painting. Perspective is important when observing my series and understanding that the 'process' is the main purpose of creating this series. I am creating an abstract series that crosses over the masculine and feminine as well as debating what creates this divide. In observing it from a far, the series appears like the brush-strokes in a painting. Musical, soft and aesthetically pleasant, but from close perception is evident from its manual-labour with rough features as a result of using my hands. This creates a synergistic result that is miscellaneous and 'unfinished' by combining different elements and doing so in a playful and unintentional manner. I created a confused but collaborative result. I am purposefully aiming to derail the misconception of embroidery being an 'unskilled' pursuit by reclaiming individualism and my personal intuition that cannot be replicated because someone else's intuition would be different. Embroidery is also fine art.
Contact Clementine