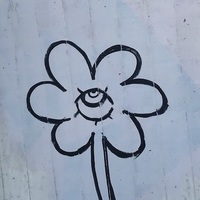 Eva Joy Lawrence
BA (Hons) Fine Art and Art History 2020
I am an artist and activist working in many media, but my ideas always circulate around protest, apocalyptic possibilities and utopia. My artwork has a symbiotic relationship with activism, with my film 'Venting in Ryebank' developing from my engagement in the Chorlton-based 'Save Ryebank Fields' campaign and Manchester Metropolitan University's People and Planet society. The vents first caught my attention during my Erasmus term in Barcelona, and have since become a way for me to symbolise the soullessness of polluting industries and how emissions are hidden in plain sight with little consideration for public health.
As an artist working in this crucial period of environmental risk and thus great risk to humanity, it is paramount for my practice to increase public understanding of climate change and provoke action. For this reason, much of my work takes an anarchic view on traditional gallery spaces, plays with humour and involves more public interVENTions. I am facinated by the history of protest and protest-art, investigating how they have worked together to evoke change in the past and continue to do so in the present. I firmly believe that art can:
- Provide visions of possible futures
- Reclaim spaces and materials
- Distribute energy and information
- Exist outside of monetary value
- Expose, promote, oppose
- Spread hope and fear
- Encourage otherness
- Cultivate community
There is power in shared ecological and global consciousness, a revolution of kindness and hope. Especially now, with coronavirus shedding light on the broken systems and human rights violations across the planet, it is time for us step up, to spread our roots - both digitally and in our communities - and to rise.
@ryebank_fields
@antifascistnetwork
@friends_earth
@reclaimthepower
@peopleandplanetnetwork
@artscatalyst
@extinctionrebellion
@anmenstyuk
@youthstrike4climate
@wretchedotearth
@climateventurecollective
@wfpfreerice
@racezine
@invisible_dust
@antifaintl
@naacp
@thisiszerohour
@green_hopefoundation
@earth_uprising
@wavedecanus
@socialartnetwork
@bpnotbp
@platformldn
@unitednations
@culture_unstained
@redfishstream
@nbsnuk