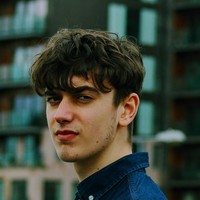 Bryn Rogers
BA (Hons) Fine Art 2020
My research explores the tensions that arise from the messaging of popular culture, specifically the construction of hegemonic identities and how we as an audience consume them.
I am fascinated by the different manifestations of both celebrity and hypermasculine iconography. As such I explore media representations of gender, but most notably that of manhood. I believe that through appropriating the media of my own boyhood, but more widely that of western popular culture, I can explore the messaging of such media and question the deep-seated values that underpin it.
Embracing elements of spectacle and melodrama along with staging and gesture has allowed me to respond to the absurdist nature of hyperbolised performance present in the many different subcultures surrounding both historical and contemporary televised sports media. These including professional wrestling, faux martial arts, strongman competitions and football celebrations.
Having previously worked in mediums of sculpture, my current practice focuses primarily on the function of sound and the moving image. As with much appropriation art, my methodology is heavily based in editing; rearranging clips and implementing techniques such as rotoscoping and audio processing. With this, I see my work as existing alongside the practices of other appropriation artists such as George Barber, Candice Breitz, Christian Marclay and others. Through the format of documentary film, audio installations and multi-projection pieces, I appropriate, then manipulate footage from archival resources and open platforms such as YouTube. It is through evolving my use of editing intentionality that I hope to employ a visual language that evokes a studied audience response to implicit conflict messaged by many sporting displays of masochism, cartoonish violence and caricatured hyper-masculinity.