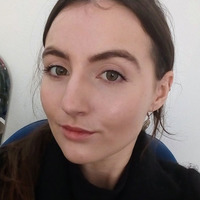 Jennifer Hart
BA (Hons) Fine Art 2020
The photographic archive and the fragmentary nature of its contents have always been a point of intrigue for me. I am curious about the sense of incompleteness that I experience within the archived collections and our need to experience an ending in order to feel a sense of completeness. I am interested in our relationship with the past through photographs and their ability to give us a false sense of touching and re-experience it, while also blurring the lines between reality, imagination and memory.

Through photographic processes, I investigate archived photonegatives to find repeated gestures throughout the images which I isolate and create new prints from in the darkroom. My work attempts to highlight the illusion of linear time through the people in these archives, preserved in a state of limbo, in a continuous looping of repeating moments, never moving forward.

The theme of repeated moments incorporates the phenomenon déjà vu, like echoes through time. Through the creation of harmonious shapes and balance within my compositions, I begin to experience a sense of completeness with the archive. My work explores the simultaneity of the fragment and the whole, creating shapes and rhythms that are not present in any one print. Ultimately, my work explores the intricate folds in the strata of time where shadows of the past haunt the present in a perpetual pattern of repetition.
Contact Jennifer