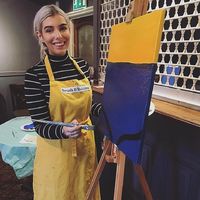 Manon Emmanuel
BA (Hons) Fine Art 2020
Manon's work is an exploration of the landscapes of her childhood in North Wales. Her interest has been in the landscape in relation to romanticism which developed into exploring the landscape as a living experience. Initially she explored water as a theme which then evolved in Manon considering the landscape in relation to the people that lived in this environment. Manon explores language, history, memory and identity in relation to the Welsh landscape, notably the flooding of the Welsh speaking village of Capel Celyn.
The concept of memorializing the events of this period gave body to the idea of using rocks situated near the reservoir where the village once stood. The memorial stones in Manon's work have been arranged on a traditional dry-stone wall, a familiar feature of the landscape in North Wales. The stones symbolise the spirit of the villagers, who predominately worked on the land, and is a memorial to their fight in the 1950-1960's in opposing the village of Capel Celyn from being flooded to create a reservoir. This memorial is a stand-alone sculpture consisting of three stones, engraved with text in the Welsh language.
The use of rocks from the landscape itself to form the sculpture is a way of connecting with the people and history of the landscape. During the creative process Manon not only was re-connecting with a childhood landscape but also re-connecting with her Welsh identity, hence the title of the work 'Cofiwch Dryweryn' ('Remember Tryweryn').
Contact Manon