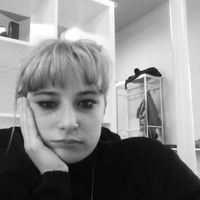 Emily Pellen
BA (Hons) Graphic Design 2020
My name is Emily Pellen. I like to think of myself as quite a bold and economic designer. I like simple and effective design that stands out and makes sense. I have a good eye for aesthetic, a strong desire to find solutions and I love big ideas. If you're looking for a conceptual, enthusiastic and unique designer - please don't hesitate to contact me.
Visit my website to look at more of my work.
To find out more about the projects on display visit my project pages...
Graphic Design Degree Show Branding
I hope you enjoy browsing the rest of the art school, looking forward to potentially hearing from you...
Emily.
Contact Emily