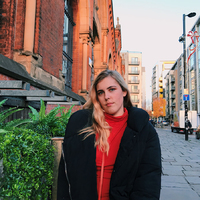 Hannah Yates
BA (Hons) Graphic Design 2020
Hi, I'm Hannah and I love ideas. Thinking of exciting concepts that I can bring into design and more recently digital marketing. I try to always challenge and push myself with what I'm thinking about and how I work.
Since my final hand in I have been interning at a start-up company in Manchester called Housemates. My role has been community builder intern which includes; content creation, competition planning, social media management and generating conversation. It's been a huge challenge but a great experience to learn a lot and really grow my skills in digital marketing.
The work I have included to show is my most recent university project. It focuses on the aquisition of language and how we can create a more organised and efficient way of learning. Inspiration for this came from my own experience studying Spanish at university and how this relied on multiple resources that were disorganised, making revision difficult. I created a website which is tailored to a specific course and contains all the resources in one handy area.
Feel free to contact me I'm always happy to chat (in fact it's making me stop chatting thats the problem).
Stay safe!
Hannah