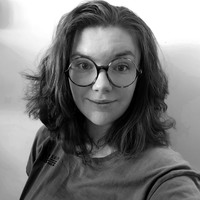 Tilda Todd
BA (Hons) Graphic Design 2020
My full name is Matilda Florence Leonora Todd, but people tend to just call me Tilda. I have a lot of hobbies such as reading, writing, drawing, painting and I enjoy a bit of gaming.

I am primarily a Creative Brand Designer but I have also done Reinterpretations, Layout Design and Book Cover Design. I enjoy using colour and love being able to mix old things with modern things. Being able to be hands on with my work and combining my design work with my artistic abilities is always fun for me. I am a hard working individual who is known to be prepared and I am a great team player. Other things I enjoy is the art of cosplaying and creating characters. I am hoping to learn how to build props and costume armour so I can join in that community of cosplay. I am also developing my digital artistic abilities so I can hopefully expand into the area of concept art as it has been something I have always admired. I enjoy the development that comes with creating new idetities as well as the craft that is communicating with a client on what they are looking for in the brand and the messages they want to bring to the audience.

I am a very approachable person, have a great work ethic, I am memorable with my curious, critical and creative personality; and always aim to be on time with all my work.
Contact Tilda