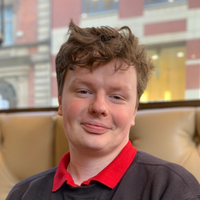 Will Albin-Clark
BA (Hons) Graphic Design 2020
Hello, my name is Will Albin-Clark.
I'm a graphic and type designer from the North West of England. For the longest time during my academic and practical study of design, the digital creation has been my greatest interest. Exploring and displaying weird quirks of the digital world is a common topic I return to.
I have an extended history with graphic design and most recently independently developing typefaces, with my most latest development being partnering with MyFonts.com as an independent type foundry.