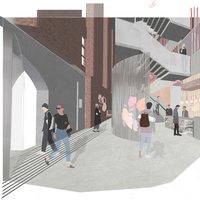 Emily Pester
BA (Hons) Interior Design 2020
Outstanding 2D Communication Award: Winner 2020. Judge's comment...'Project has strong sense of identity and visual language showing an understanding of the building, strong communication through diagrams and sections...'.
Commerce Mill
Social dealings between people
Commerce Mill is a design that looks to solve the issues that many graduates face when moving into industry.
"90% of people were worried about life post-university as a graduate along with 49% stating that their mental well-being declined after leaving university, leaving a lot of graduates scared and alone". Guardian, 2014
Commerce Mill creates a networking and connective environment where graduates can use the studio facilities to create work, while also gaining professional skills from employers. The gallery provides a space where graduates are able to showcase and exhibit their work to future employers, who then bid for the graduate, employing them as part of their team. The hospitality area provides a space where connections are made between employers and graduates in a more informal setting.
The concept of Commerce Mill is inspired by the creative history of Ancoats, which was the hub of 'Cottonopolis', Manchester's great cotton industry. Therefore, reintroducing the creative and production industry to Ancoats was key in re-establishing the Heritage which was once so successful.
The space serves as a platforming, structural and connective space that bridges the gap between University and employment, a greater platform for graduates to be seen by employers, rather than the conventional degree show.
As a designer I believe that the environment which we are surrounded by is affected by the sentimental value we place on designs. Implementing materials and objects that we value into spaces means we are more likely to look after the designs and not have any desire to change them, allowing spaces to become more sustainable. This approach to design was taken into consideration through my final major project, by designing a space that will always be desirable and in demand for graduate design students.
Contact Emily