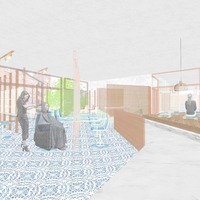 Fiah Ali
BA (Hons) Interior Design 2020
The Circle is one-stop wedding studio that provides services aiding the process of a wedding ceremony from beginning to end.
In the ever-changing wedding market, ceremonies no longer follow a linear timeline, implementing influences of western and eastern traditions that are adapted for new ways to celebrate. Through globalisation, people are more exposed to trends from social media and other cultural influences to which customary practices have slowly been abandoned.
As a response, The Circle celebrates the intricacy and importance of heritage by upholding the practice of traditional customs. The space aims to bring a new identity to the community by informing the users on the Asian culture, and providing a romantic experience by reconnecting back with one's heritage in a cultural context.
The building facilitates a business that covers an extensive range of services catered to fulfill the needs of the clients and welcomes the general public. These services include wedding planning, a silversmith, weaving workshops, hair and beauty studios, and men's grooming studio.
Contact Fiah