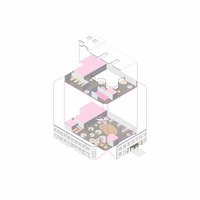 Issy Williamson
BA (Hons) Interior Design 2020
Since I was little I have always had an interest in the natural world despite growing up in London, where the only experiences I had of wildlife were with pigeons, squirrels and the occasional urban fox rummaging through the bins. As a child, I found myself researching British wildlife extensively, begging my parents to take me to the Natural History Museum at every opportunity and excessively watching Animal Planet. As my interest in design developed, this turned into a passion for conservation and a desire to lead a more sustainable lifestyle. Going forward into a career in design I am determined to use my platform for change.
The concept behind Nurturing Nature was to create a space which improves people's connection to wildlife through a series of social and educational areas. Nurturing Nature is a space designed to insert nature into the lives of those living within an urban environment. It focusses itself around British wildlife, as I found that currently there is not much focus around the endangered animals that are living on our doorstep. The project also works alongside Manchester Environmental Education Network (MEEN), an organisation that works across disciplines such as education, charities and local government providing environmental education.
The building provides a space for MEEN to work out of, giving them offices, a classroom, a lecture theatre/cinema room as well as an area open to the public including a cafe, exhibition area and shop improving the organisation's outreach to the public.