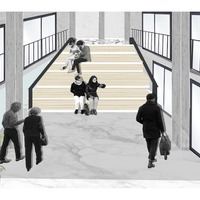 Olivia Grosvenor
BA (Hons) Interior Design 2020
As an interior designer I think it is important that we design for the community, exhibited in both; Unit X and The Final Major Project. Both units have been personal, rewarding and challenging.
This final major project has given me the practice in aspects that I have not experienced so far, implementing a brief from my own knowledge, initial ideas and personal experiences. Producing a manifesto which resonates with personal experiences within education, has ensured me to stay true to who I am as a designer.
A key point, in my manifesto was the challenges and opportunities that arise through education and the hard equality we might face, in which should not be taken into consideration, We Learn was the best response to these implementing challenges.
We Learn provides educational facilities and resources for a person to gain greater knowledge and improve their skills, playing a considerable role in their career growth and personal growth. Creating a sense of community was the most important part of this project, a sense of community at We Learn creates engaged learners and equal collaborations, which enhances
social interactions. The most effective method in order to create a community was to design an amphitheatre style seating and spatial work environments, reinforcing the sense of an educational community.
The project has defined me as a designer, I believe it is important that we design for everyone. I want to go on to creating designs which contribute to their community for a beneficial purpose. I am ambitious, creative and relatable; using past and present experiences to drive my design ideas to
create the foremost design solutions and designs. These experiences have also helped me develop as a person and a designer, we look at the world through the eyes of the community and not just ourselves.