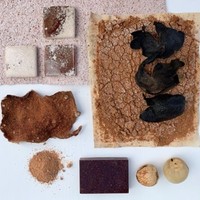 Aliyah Zuberi
BA (Hons) Textiles in Practice 2020
Mixed Media student Aliyah Zuberi is interested in material innovation and bio design practices within up-cycling and re-purposing contexts. With a particular fascination in utilising waste systems, her projects focus on reconstructing modest waste materials found everyday and converting them into delicate and experimental pieces.
Through her material sampling she aims to confront excessive consumerism in its 'take, make, waste' model. Exploring how sustainable design can recalibrate the relationship between people, objects and the environment by revaluing the resources which our planet offers.
This process-led approach to design harnesses waste streams, allowing her to access by-products and various materials which are not virgin resources. This enables both a new lease of life, and an elevated functionality when upcycling them into biomaterials.
Process is very much at the core of this concept, therefore documentation of the collection, treatment and storage of materials at every stage of experimentation is imperative. The story behind the materials she chooses to use is of equal, if not greater, importance to the results.
Aliyah's work stems from an unrelenting fascination of the material world, and in the possibility of shifting perceptions of what can be used to manufacture what surrounds us everyday.