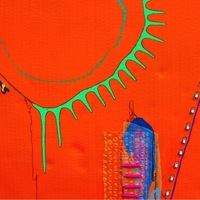 Chloe Huntlea
BA (Hons) Textiles in Practice 2020
As an artist my work invites curiosity through organic and unusual formations through a bold colour palette. This creates visually effective and aesthetically pleasing pieces complemented with tactile detail.
Interactive art is a concept I explore to bring people together. Creating public artwork in a gallery exhibition invites the audience to enter a world of tangible curiosities. This sensory engagement allows my work to be accessible by everyone; in particular the visually impaired who are often marginalised within the art world.
Problem solving through design motivates me. During a recent visit to New York I became aware of the city's lack of hygiene and how easily infection can spread through touch in public spaces. My current design inspired by microscopic imagery reimagined the virus through a uniquely thought-provoking concept to educate the audience about the spread of COVID-19 through informative posters. These artworks invite immediate reflection and consideration. Inspiration behind this poster campaign derived from the work of Keith Haring who used his creativity to generate awareness about AIDS through his 1980's New York subway graffiti-style artwork. This stimulated me to utilise an experimental approach by contextualising my abstract drawings through subway Street Art. I presented a contemporary and vital message to the public regarding hygiene through the visualisation of a blatant message on a pillar in the subway to wash your hands, alongside my COVID-19 artwork. This creates a doubly potent message. Using the subway as a moving canvas is a unique way of working, gaining recognition within the art world.
My aspirations after graduation include designing and creating bespoke artwork for interiors and public spaces. I am a versatile artist constantly challenging myself and keen to immerse myself in new projects and opportunities.
Contact Chloe