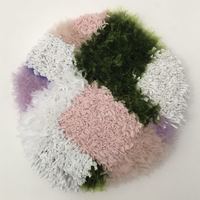 Daisy Price
BA (Hons) Textiles in Practice 2020
During my three years, I have discovered my love for tactile pieces, creating work with a lot of 3D elements. In my final year, I explored my passion for fabrics and how they complement each other, focusing on tufting to showcase this. I pledged to not use any brand new fabrics, only reusing and recycling materials I already had, as I aim to be an environmental designer in the future.
In my final project, Tuspu, I focused on 'Scandi' style and living, creating sustainable multifunctional tufted pieces. I wanted to create a piece that has two functions, being adaptable within the home, creating a versatile piece. I focused on 'Scandi' interiors and furniture designers, as the minimalist style is current in today's market. Reusing and repurposing fabrics for these pieces is very important to me as a designer.
Moving forwards, I intend to create a line of bespoke, sustainable covers, posting on my Instagram weekly. I intend to develop my work to build a strong online presence and following, aiming to create a collection of covers and hopefully expanding the line in the future; whilst creating commissions and expanding my techniques.
Contact Daisy