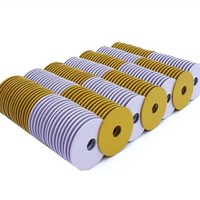 Emma May Pepper
BA (Hons) Textiles in Practice 2020
Inspired by the geometric structures found in urban landscapes and most recently the interiors from New York's Colour Factory my design work adopts the simple shapes and patternity found in everyday objects and surroundings. Providing me with visual information that has been recorded through digital drawings.
Digital drawing is elemental to my practice, strongly influencing the samples where the use of recycled materials has been a key element in the production of the sculptures for the interiors market; in particular decorative accessories and surface design. The process of repetitive making is the main part of my practice in reference to my drawing; using the process of duplication and layering to create flowing pattern like structures, with three dimensional surfaces. Consciously considering how I can limit my environmental impact and be more sustainable in design.
Post-Graduation I intend to further explore the concept of commercial products, decorative accessories and aspire to design contemporary interior pieces in the future.