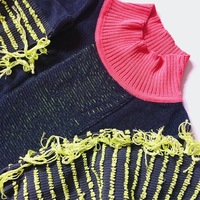 Rebecca Jones
BA (Hons) Textiles in Practice 2020
Rebecca Jones is a textile designer specialising in fashion knitwear. Within her practice she has taken inspiration from abstract compositions – coloured geometric shapes reminiscent of architectural forms. Rebecca enjoys experimenting with new techniques and different yarn qualities within sampling. Her final collection is a Menswear, sports inspired collection for A/W 2021.
In Rebecca's 'Abstract Compositions' project she created an array of both garments and knitted fabrics for fashion created on a Dubied and Domestic knitting machine. Rebecca is passionate about contrasting textures and colours. Her work is heavily influenced by her own photography and which forms the foundation for both her colour palette and sample structures. She enjoys incorporating stand work within her development process, as a way to enable her to visualise her work on the body. Layering bold contrasting knits together and experimenting with the placement of different textures and colours allows her to create a more eye-catching collection.
After graduating from university Rebecca is hoping to gain experience within the fashion and textile industry through placements, to enhance her skills and give her a greater insight into the industry.
Contact Rebecca