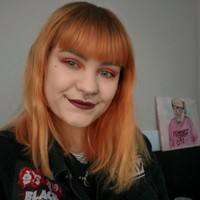 Emily Griffith-Mortimer
BA (Hons) Animation 2020
I've always strived to show exploration within my work and wanted to test the limits of animation with its many forms. My final film 'Mediterranean' uses a wide range of animation techniques such as stop motion, digital 2D and hand drawn to achieve its quirky aesthetic. Most of production for this film was done at home during the Covid-19 epidemic.
The running theme presented in 'Mediterranean' is mental health and I want to address the stigma behind having to take antipsychotics. Learning from my own experiences and ones shared to me, I wanted to delve into the user's feelings about it, feeling such as feeling numb, empty or dependant on the drugs. I hope my film's theme resonates with some so that they find comfort in not being alone.
I plan to create more hard-hitting abstract animations in future. Animation is more than just Disney princesses and innocence, it's a perfect storyteller for these taboo themes and I want more people to utilise it.
Contact Emily