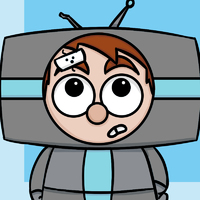 Richard Coyle
BA (Hons) Animation 2020
Hi! I'm Richard and I'm an aspiring 2D Animator, Producer, Character Designer and Writer.
Ever since I was little I have loved animation and everything it involves, from watching my first Disney movie to the Saturday morning cartoons, I was obsessed. I chose to turn that obsession into a career, and here I am, at the degree show of my final year of university getting ready to jump into the scary yet exciting world of professional Animation.
Today I hope to show you some work I have created during my 3rd year of uni, those being the first publicly shown teasers of One Quiet Day, a coming of age story tackling the subject of homophobia in a very real way while being set in a very spectacular fantasy world, and Spark, a Robo-rom-com, the love story of the century, where P.B. a post bot who falls for a very unlikely love interest. I was Producer and Lead Writer for both films, and key Animator for One Quiet Day.
I also have my showreel giving a greater look at my animation ability, alongside with a few of my more recent pieces of work, of characters I have designed for other projects and pieces I have created for One Quiet Day.
I hope you enjoy what you see and thank you for spending your time looking at the work I have created over the last few years.
Contact Richard