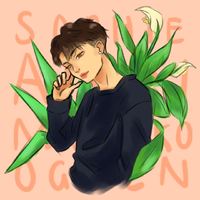 Sophie Ann Michiko Ogden
BA (Hons) Animation 2020
I am a character designer and 2D frame-by-frame animator interested in art direction and storyboarding. In most of my work I take a lot of inspiration from creators around the world, as well as my cultural heratige. This year, however, I went outside my comfort zone in terms of design style.
I am the director, designer and lead character animator for my cyberpunk short film, "ICARUS" (still in production). I also worked as a character designer and 2D animator for "Mediterranean", directed by Emily Griffith-Mortimer, and designed finalised character sheets for a few other films on the animation course such as "Overgrown", directed by Diana Kasavetova, and "[REDACTED]", directed by Carol Holmes.
My degree show work reflects the pieces I am most proud of during the projects I have worked on over the past three years, with more available to view on my website. This includes character design sheets, poster illustrations and a character animation showreel. I have mainly been focusing on character design and character animation this year, but I want to develop my environment design skills as well as my concept art. I am applying for an MA in Animation, and I hope to work on these skills through the course of my further eduction.
In the long run, I aim to work as a character designer and 2D animator in industry, maybe working my way to directing my own films. I hope you enjoy my work, and feel free to visit my website.
"ICARUS" is currently still inproduction.Our producer, Ryan Robinson has created a teaser trailer for the online degree show, so follow our instagram account, @icarus_project to keep up to date with the film's progress.
Contact Sophie Ann Michiko