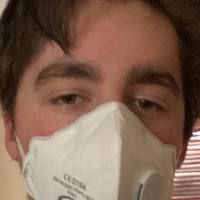 Andrew Florence
BA (Hons) Fine Art 2020
Hello, hello.
I am a mostly digital artist. Currently making lots of digital collages. Do a bit of filming on the side.
In the conception of my work, I often have no idea what will come, I just trust it will; Without deliberation, or theorising over the image as I make it, I try to move and create as unconsciously as I can. Very automatic. Scrolling & scrolling through the camera roll, a hearty library of bad memes, blurry images, memories and questionable photography. Picking a pic, placing it on another. Layering and layering, in an increasingly bastardised form...
There's something so curious and subversive in the never-ending appropriation and redistribution of imagery, and I revel in further distorting the degraded images I come across online, along with my own. Faces and expressions. Shapes and words. Uneasy feelings. Unfinished business. Icons of depression. Shoddy poetry. It's all there. Well, this 'online showcase' had a 10 image limit, so some of it is.
Then there's Dancing with the Devil in Didsbury. Something silly. A silly video. A silly boy plays a silly cult leader. Andy Kaufman wannabe.
Contact Andrew