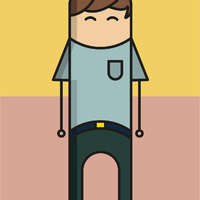 Aaron Bullock
BA (Hons) Illustration with Animation 2020
During my time at Manchester School Of Art my Interests have evolved into the investigation and study of British culture taking a strong influenece from my own families working class background. I have focussed specifically on construction workers and sites over the past few months as they are the backbone of the working class comunity in the UK however I anticipate my practice expanding into other aspects of our culture.
I have found that using Urban Sketching as a documentation tool allows me to collect a large catalogue of information over an extended period of time which I find useful in determining the direction of a project.
When I started university I found it difficult working with colour due to my colour blindness and as a result avoided using any at all. Luckily, over time I have developed my own way of working around this problem by using a combination of digital help and tactile coloured materials such as coloured paper.