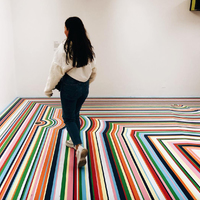 Gemma Bennett
BA (Hons) Illustration with Animation 2020
I am an aspiring teacher and illustrator predominantly in the children's book industry. My work is a combination of digital and more traditional illustration methods such as collage, print, painting and drawing.
The work I have chosen to display as part of the degree show comes from two different projects. The first is part of my Authorship project and are submissions to the Carmelite Prize 2020 in response to the text "One and Only" by Jeanne Willis which tells the story of a bird that doesn't quite fit in.
The second set of book spreads are for my most recent project which is a book I wrote and illustrated myself titled "Footprints on the Farm" which is inspired by a local project that cares for children with mental health issues in a farm environment. It tells the story of an anxious child on a school trip using shadows as a metaphor for anxiety.
Contact Gemma