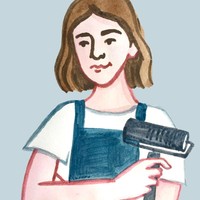 Martha Harris
BA (Hons) Illustration with Animation 2020
I'm interested in folklore, stories passed down through generations and the rituals involved in ancient Celtic spirituality.
For my final project I have taken this interest and illustrated 8 key events of the Celtic year from the book 'Celtic Rituals' by Alexi Kondratiev. There were many layers to each season filled with a range of global inspirations.
My practise as an illustrator revolves heavily around printmaking so my pieces depict plans for screen prints and lino prints created digitally with one example (called Samhain) of a finished Lino print.