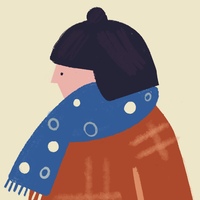 Martha White
BA (Hons) Illustration with Animation 2020
Communication is the main inspiration for my final project. I am inspired by the exchanging of ideas, thoughts and feelings and how listening to these elements opens up a world of empathy and understanding.
People are consistently absorbing data (ideas, thoughts and feelings) whether it be their own or others. It interests me that we engross ourselves in this during our spare time, whether it be through forms such as books, films, the radio, conversations, the list goes on. I wanted to show that this curiosity is universal.
It is for this reason, that I would like to use my illustrations to help shed light on notions that I believe are essential for people to understand. Whether it be spreading ideas on wellbeing, sharing personal stories, conceptual thinking etc - I am a great believer that we can learn from one another and would love to be part of this discussion. I am looking to work for any publication, whether it be digital or physical that has ideas, thoughts and feelings that I would like to help communicate to others.
Contact Martha