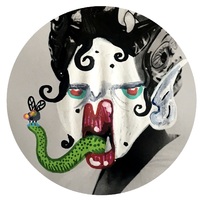 Sophie Williamson
BA (Hons) Illustration with Animation 2020
I have a keen interest in environmental and social issues. I make, animate and illustrate my ideas around the well being of animals, humans and our natural world. Through my work I aim to highlight the darker side of what we are told is "normal" in modern day society. I use 3D modelling, illustration and animation as tools to express injustice and send messages I believe to be important in order to initiate change.
Throughout my third year I created a range of illustrations, animations and 3D works commenting on animal and environmental welfare. Including topics such as the detrimental effects of the meat and dairy industry, pollution, animal testing and the destruction of the natural world due to human activity.
Here I am showcasing work from two projects…
'Meat Your Maker'
An investigation into what goes on inside the animal agriculture industry. Looking beyond the sugar coating put in place by clean packaging and unobtrusive advertising; discovering what goes on 'behind-the-scenes'.
'100 Years Ago'
A project in the making, commenting on environmental welfare by bridging the gap between humanity now and what humanity will be like in 100 years; if we do not save our environment.
Due to limiting circumstances and lack of facilities this project is unfinished, I was unable to create the final animation. In its place I am showcasing puppets and short animated clips that I was able to make during lockdown, which will one day be a part of the final animation.
Contact Sophie