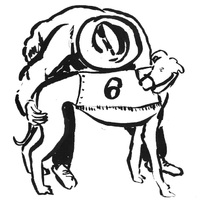 Molly Pilkington
BA (Hons) Illustration with Animation 2020
My work consists of a combination of traditional illustration mediums that include collage, gouache, watercolour and inks. I utilise these methods to create a playful approach to an array of archival resources. These archives offer a vast amount of history and narratives to explore with the aid of the local community's input.
This has greatly influenced my more recent project that explored Manchester Venues under reconstruction. A specific focus on the Manchester Belle Vue stadium and how to bring to light untold stories that could soon be lost in the planned redevelopment.
The most suitable response to this type of venue was one that focused on the memorabilia and how this venue's survival was truly rooted in its connection to the community and visitors. I produced a map along with mockups of badges, mugs and greyhound statues as my response focused more specifically on the greyhound track due to my personal connection. This seemed fitting as throughout Belle Vue's history the track was often overlooked.
Contact Molly