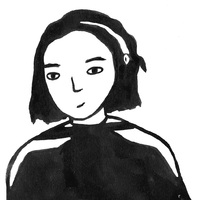 Olivia Hardman
BA (Hons) Illustration with Animation 2020
I like working with simple, black and white illustration so there are no frills to hide behind. The first two pictures are part of my online proposal for an exhibition titled: 'All the things I've been doing to avoid doing Art'. Aiming to address my distractions of being at home amidst a pandemic and how I have tried to combat these said distractions by illustrating them instead. I aim to create a humorous and personal take on avoiding what you need to get done and, by viewing the exhibition, it is clear that I eventually had to make artwork because it will be what is on display.
I often gain research and practical exploration on a subject by observational drawings, looking at myself and objects in and around the house to create a better narrative in my work. I have also made a number of clay models which help inform my drawing.
I see myself as a versatile maker, who likes to work with large scale paintings and murals, as well as intricate and detailed ceramics.