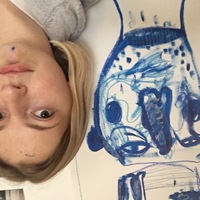 Tobi Meuwissen
BA (Hons) Illustration with Animation 2020
Tobi loves to create colourful, energetic designs using pencil crayons and colourful card collages, brought together through digital means. Her interest in social issues means that Tobi engages within the community setting to use creativity to echo the voices of those who feel ignored.
Tobi's projects this year have focusing heavily on the home comfort found in food and the refugee struggle of feeling displaced. The projects use food as a tool to celebrate diversity and a multicultural society. Throughout this project it became clear that food is a symbol of cultural survival, through the tradition of making, the company and celebration. It is a symbol of who we are and where we come from, and allows us to honour our identities, no matter how far from family and home a person is.
Tobi wanted to use creativity to start a conversation about an important cause. In a time when xenophobia and racism is rife, especially in a post Brexit Britain, she believes that it is imperative to make everybody feel welcome and valued in society. This is why she chose to focus on the refugee crisis. This project reflects upon the refugee/asylum seekers experience. It explores the art of 'making' whether this be a dish or a new life in an unfamiliar place.
Contact Tobi