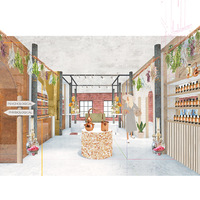 Charlotte Fisher Raybould
BA (Hons) Interior Design 2020
Outstanding 2D Communication Award: Commendation
Judge's comment...'from materiality collages to 3D protagonist journey, the journey very successfully and beautifully communicated...'.
Sensorium Mill explores ideas of experiential retail, hospitality and craft, inspired by a fusion between the Slow Movement and the Five Senses. 'Slow Food', 'Slow Scent' and 'Slow Craft' influenced the spaces conceptually, meanwhile, 'Slow Vision' and 'Slow Melody' are expressed in materiality and design decisions throughout the building.
As the world slips away into a virtual existence, loneliness in cities is increasing whilst community is seemingly diminishing. This space aims to bridge the gap between the neighbouring communities of Ancoats and New Islington. Modern day Ancoats has risen out of the ashes of its industrial past and Sensorium Mill was designed in response to the rich history of the site. The aim is to reverse the fast-paced nature of life in a location where it all began, by reverting back to a time prior to the industrial revolution.
Eating locally sourced produce and encouraging face to face interactions inspires users to regain a closeness to others and an appreciation of our resources. The discovery of natural flavours and healing remedies stimulates the senses and sparks awareness as one travels through the building. Furthermore, the elimination of mass production through traditional craftsmanship and repair persuades users to practice a more thoughtful way of life.
My design philosophy stems from an interest in site sensitivity, narrative and choreography of space. The notion of reconnecting to others, to ourselves and to the Earth is a driving force for conceptual and material exploration. Being resourceful and incorporating Slow Design principles into my work is fundamental, as well as embracing aspects of the Wabi Sabi lifestyle, by celebrating ephemeral beauty through the use of raw and honest materials. This inspired upcycling off cuts to eliminate waste from the construction process, creating unique features that encompass the story of Sensorium Mill.
Contact Charlotte