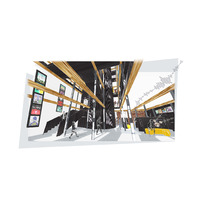 Emma Harvey
BA (Hons) Interior Design 2020
Design Thinking and Innovation: Winner

Judge's comment...'Emma is a natural designer, such a thorough and informed process through rigorous research and testing...'.
Situated in Waulk Mill (an old cotton Mill in Ancoats), Library of Voices aims to reignite the innovative essence of Ancoats by offering an alternative learning centre to traditional libraries, in the form of a hub for podcasts and recorded speech. It creates opportunities for learning through conversation that are enhanced by modern technology as well as providing the facilities to share knowledge with others. The experiences of listening and conversing are enhanced through the physical space. Through listening spaces, the ordinarily, primarily individual act of listening to podcasts or recorded speeches, becomes an opportunity for shared experience.
Through recording and editing spaces, the ability to share knowledge becomes accessible to a wider community. Through spaces for speech therapy, those who struggle, have the opportunity to grow in confidence whilst conversing. The interior reflects the notion of dialogue and sound through a variety of spaces that cater to a range of protagonists. They are all united by a central void which highlights the feature stairwell. The stairwell becomes a point of conversational learning in itself, through the sound boxes contained within, allowing visitors to be immersed throughout their journey. Both the sonic aspect and the form link back to Ancoats' historic affiliation with sound - whistles from the old mills signaled break and finish times and could be heard throughout the area.
Library of Voices highlights my interests as a designer. Within my practice, I aim to create spaces that focus on the end-user experience, not just in terms of visual aspects but through the bodily experience and spatial journey I endeavor to consider the past of a place and building whilst designing for the future.
Contact Emma