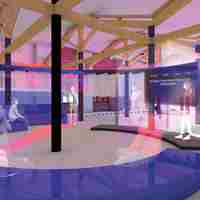 Jessica Dahya
BA (Hons) Interior Design 2020
The ¾ House
The ¾ House is a co-living environment for pre-released Category C Prisoners, that evokes the natural surroundings of Ancoats heritage, in a bid to educate, reform and more importantly, reintegrate them back into society.
The concept aims to alleviate the overcrowding in prisons in the North West of England, and also to help those released that resort to re-offending or end up homeless – of which there is an abundance in Manchester. It is a step further than a half-way house, and provides the right support for those convicted, as many prison sentences can last up to 4 years.
The ¾ House aims to educate the residents through opportunities to teach, play and work, with the additional twist of allowing a public facing element. Hereby, the process of integration is reliant on the general public of Ancoats. The scheme allows a sense of rigour in terms of planning and prioritising space, as well as a need to empathise with the protagonist to completely understand their personal backgrounds and situations.
In light of current events, the challenge for interior designers to lead the potential outcomes in terms of living, working and play, means that there is scope to explore the changing dynamic between the protagonist and environment. Dictating this project towards a more unconventional protagonist, allowed me to investigate more intimately into their specific requirements.
Therefore, after University, I hope to gain valuable experiences in either Workspace, Commercial or Residential Projects. There is much need now more than ever to be creative and use what is available to us during this time.
Utilising this now will continue a growth in my skillsets, as well as prepare me for future endeavours. I will continue to enjoy developing my skills and look forward to the journey ahead.
Contact Jessica