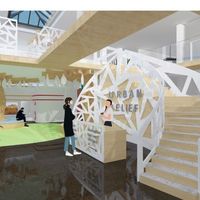 Kate Openshaw
BA (Hons) Interior Design 2020
Throughout university, I have designed with an ongoing theme of creating spaces to encourage positive behaviour change, through retail environments, community spaces and my dissertation. My Final Major Project is an accumulation of this research focussed on the Urban Village of Ancoats.
The rich history of Ancoats has always shown it is home to Manchester's 'Worker Bees' and with recent substantial redevelopment, time hasn't changed that. Therefore, Urban Relief is the ideal solution for building a community between the Ancoats residents and relieving them of their day-to-day work stresses.
Urban Relief provides space for teaching stress relief techniques and an environment which enables the stress relieving techniques to be implemented, as well as space for the community to come together and be each other's therapy. It is a scheme which is much needed and will be sustainable for the whole community of Ancoats.
The bespoke designs in Urban Relief, such as the calm bubbles, fractal panels found throughout, and the decompression zone, create a new and innovative space needed for the city workers of Ancoats.
The scheme is set to influence positive behaviour change for those who are experiencing stress. Users can either actively choose to partake in stress relieving activities or they can use the more communal parts of the space to relax, communicate with new people, get work done in a different environment or to simply take a moment and breathe, The design of the space itself is also stress relieving, acting upon the subconscious of the occupants and aiming to reduce the release of the stress hormone cortisol.