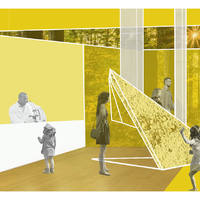 Natalie Morris Milne
BA (Hons) Interior Design 2020
As a designer I am inspired by the natural world and sustainability. During my final year my research led me to the field of Biomimicry. I strongly believe that nature inspired designing should be at the forefront of creators' minds to help alleviate the pressures humans place on our planet.
BIOME is a space which incorporates all of my personal design values, where designers, engineers, biologists and technologists can come together to design future projects, share concepts and research from their respective backgrounds to help strengthen the field of Biomimicry (the practice of using processes occurring in nature to solve design challenges).
The centre also introduces the public to the concept of Biomimicry through the open exhibition space where children get the opportunity to create their own designs, inspiring a new generation to work more closely with nature and reject unsustainable practices.
The aim is to create a Biomimicry Community of Practice, as I believe we can take much greater steps towards a sustainable future together than we can on our own.