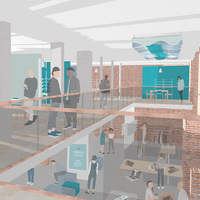 Phoebe Collin
BA (Hons) Interior Design 2020
Joint winner of the Creative Leap Award 2020
During my final year at Manchester School of Art, I felt it was important to put my focus into designing a scheme that would be beneficial for myself and those around me in a similar position. Seeing and feeling the concerns and worries amongst young adults in relation to future jobs and what is to come after university, inspired me to create a scheme that would tackle these issues. The main concerns that were addressed included unemployment, lack of contacts, space and facilities, as well as financial and social issues. These concerns were put at the forefront of the proposal and were the main aims that the concept of the Synergy intended to overcome.
The Synergy brings together the creative talents of students/ graduates and new businesses. It provides a space to share ideas, skills and contacts, as well as to exhibit and showcase designs. Each concern addressed at the beginning of the project was carefully considered one by one to determine which facilities should be incorporated into The Synergy and to ensure the Occupants' needs could be met and concerns resolved.
Interactive spaces were included to develop social skills and for contacts to be shared through networking and general discussion between creative minds. Collaborative areas were designed with social issues in mind. By combining the design talents of different individuals into one space, there is a powerful environment where progression and creativity can take place.
As a designer, I am drawn towards social spaces where interaction and collaboration take place. Like the concept of The Synergy, many of my previous projects have be centred around social values. At the heart of all my designs, there is a strong connection between the Occupant and the purpose of the space, something I believe to be highly important.
Contact Phoebe