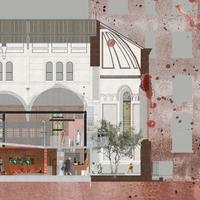 Poppy Cambridge
BA (Hons) Interior Design 2020
Alumni Award: Winner
Judge's comment..."MASS is a beautifully developed and executed project from the concept, experimentation in model making and the final visuals. The entire project reads as one and has such strong branding and a consistent language that it almost feels real." - Lois Blackwell
Simpson Haugh Architects 'Professional and Employability' Award: Commendation
Judge's comment...'Seductive and atmospheric composite illustrations combine to form an evocative though slightly ambiguous whole.' - Rachel Haugh, founding partner

MASS is a modern hybrid of the rations shop and apothecary, offering the consumers of Ancoats a place to get their daily necessities. It combines old rituals with unconventional display methods and forms. It uses traditional methodologies to cure modern issues.
MASS is a proposal for the future of retail design. It challenges the conventional and uses unexpected material relationships to trigger thought and change rituals for the better. It reintroduces necessity and rationing into our modern lives, this being a remedy for us and our environment.
MASS strives to use arrangement and materiality to add value and desire to our daily rituals and objects. It is a space which is programmed by MASS as a ritual and is a place which controls MASS consumption.
MASS uses gallery and exhibition methods to re-engineer desire of the everyday. Nostalgic thresholds and material compositions frame items and encourage sensitive consumption.
MASS heals people of their modern daily ailments such as lack of sleep and anxieties, through plant remedies, inspired by old Italian apothecary. Healing the smoky air left from Ancoats' dystopian, industrial past.
The host building, Halle St Peters, previously a Catholic church, was once a space of prayer, ritual and remedy. The old religious rituals are threaded back into MASS and are used to navigate the consumers journey through the different spaces.
The concept is fuelled by rigorous research and material exploration. This became a tool to raise awareness of consumption and health, affecting us and our environment.
The philosophy of MASS has been derived from my own values as a designer. Conceptually approaching the brief, remaining sensitive to the site and history, whilst being true to materials and challenging the expected - to change behaviours for the better.
Contact Poppy