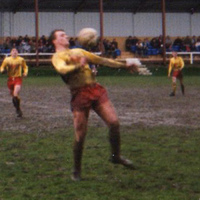 Haydan-Ray Roberts
BA (Hons) Photography 2020
Haydan-Ray Roberts is a Manchester based sports photographer. He currently works covering the games of non-league football club Ramsbottom United Football Club. His practice is centred around documenting the people behind the beautiful game and their stories whilst also reflecting back on the game as it once was.
Using archived imagery as his inspiration, Haydan Roberts edits and curate's series of images which explore the notion of "Forgotten Scenes of English Football". The body of work was originally designed in a book format. However, a fraction of the work has been selected and transformed to be exhibited.
The body of work provokes affection through nostalgia by exploring the change in the beautiful game through the 80s, 90s, and 00s. The images allow its viewer to remember these times by reflecting back allowing us to see the game as it once was looking at the strips worn by the players, how the game has been watched by its fans and how the rustic grounds with their basic architectural design held special relationships with the football played.
Contact Haydan-Ray