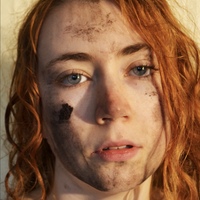 Maya Sharp
BA (Hons) Photography 2020
Maya has been exploring her own intimate relationship with the West Yorkshire Peak District that she grew up roaming, using inspiration from local legends, poetry, landscape photography and self portraiture. A huge part of her project has been spent finding ways to insert herself into the landscape and blend her body with moorland. Maya wanted to blur the lines between where moorland ends and she began, following the ecofeminist tradition of photographing women in nature.
She also explores pre raphaelite depictions of female death in nature and the fetishisation of Ophelia. Centering her black and white images on the legend of the venegeful spirit of Blakemere Pool, murdered for witchcraft, she sought to reclaim female death away from the male gaze. Her project entwines two stories of the moorland, the story of Blakemere, of spirits and anguish. And in the colour images she shares her own story, of great love and a feeling of oneness with the landscape.
Maya's work hinges on a strong belief that photography and poetry are essentially the same, they are just different methods of self expression. When she writes and when she takes photographs it seems that both mediums come from the same emotional place within her. She has found that displaying poetry and photography together creates something a new kind of magic.
Contact Maya