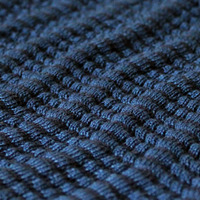 Amber Notley
BA (Hons) Textiles in Practice 2020
Amber Notley is a Knitted Textiles designer for Fashion. Her final year work explores an overarching concept of Perspectives, looking at environments from different angles. Covering resort 'Voyage', spring/summer 'Reroute', pre-fall 'Summit' and lastly, autumn/winter 'Shore'; her work aims to explore colour and textures across different seasons within her fashion Menswear context. Choosing to cover each season informed the use of different yarn types as well as an acknowledgement of fabric weight, and contextual application.
Her final project, titled Shore uses imagery taken from around the North West coast, from which she was able to engage with various drawing mediums such as photography and collage, alongside a vast amount of trend research. Looking at physical elements of the shorelines and environmental factors such as wind and wave erosion, Amber explores the textures and everchanging surfaces through drawing and collage, which she then interprets through her knits. Using both fine gauge dubieds and domestic knitting machines she explores subtle stitch variations and sophisticated colour combinations, to allow for her collection of fabrics to emulate the textures and feelings seen along the Shore.
Post-graduation Amber is beginning a menswear design placement, following that she aims to engage within the design industry as a knit designer, focusing on fabrics for fashion.
Contact Amber