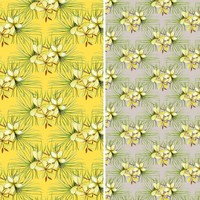 Sophie Owens
BA (Hons) Textiles in Practice 2020
Sophie is an embroidery and mixed media designer who started the final year eco-printing using natural forms. Getting inspired by the marks and patterns created by the steamed leaves onto cotton and silk, she started to produce digital repeat prints from her drawings and paintings. This has been limited to using Photoshop because of Covid 19, otherwise she planned to experiment more with screen printing and other techniques. The print designs are for interior purposes, such as wallpaper and soft furnishings, and her colour inspiration came from photographs taken during a visit to Kew Gardens.
Within the textile field, Sophie also enjoys hand and machine sewing for embroidery and garment construction. In fact, during the pandemic, she has been participating as a volunteer in sewing scrubs for the NHS and is now making face masks.
She has taken inspiration from Liberty, Osborne and Little and individual designers such as Abigail Borg as well as from her own photography during visits to the Royal Botanical Gardens at Kew and in Edinburgh. Following research, she has taken into consideration the size and scale of repeat patterns while visualising them onto wallpaper and soft furnishing in room settings using Photoshop, to explore the aesthetic possibilities. She has considered the market and the purpose of her designs, and sees the current prints being used for bespoke soft furnishing and wallpapers, while having the versatility for larger scale production.
Post-graduation, her plan is to find a job in the textile industries to keep learning different skills and to develop her knowledge of the sector.
Contact Sophie