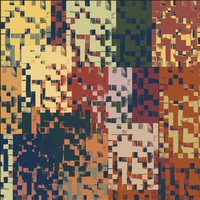 Amelia Hanson
BA (Hons) Textiles in Practice 2020
I am a textile designer specialising in print and surface pattern for the interior sector, including wallpaper and soft furnishings. Visual research from my surroundings underpins my development and I am inspired, in particular, by pattern and nature. Working from my primary photography I produce simple, fine line, pen drawings and hand painted designs.
I enjoy exploring and experimenting through collage and mixed media, manipulating patterns using traditional and digital techniques. My final project, Interlacing, features a diverse exploration of layering and interlacing designs with a strong colour palette.
During my time at University, I have experimented with a variety of techniques and gained various skills appropriate to my future career ambitions. After graduation, I intend to gain relevant work experience within the fashion or interior design industry.