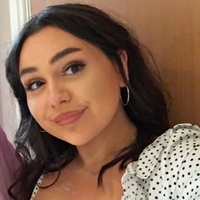 Amy Stafford
BA (Hons) Textiles in Practice 2020
Amy Stafford is a Textiles designer specialising in knit, with a focus on Fashion Knitwear. Her work explores femininity and playfulness and embodies her maximalist and over-the-top style through heavy use of pattern and colour.
Amy enjoys exploring themes of feminism and femininity through her research and often looks into cultural societal references, such as protests and marches for inspiration. She also enjoys exploring ideas of female stereotypes and uses her work to express tongue-in-cheek references to these expectations. This is translated into her work through her frequent use of pink, along with texture and embellishments. Another key element of Amy's work is her interest in retro fashion such as the 60's and 70's and she often integrates this into her work through the silhouette and details of her garments.
Garment making has been a large part of Amy's development as a practitioner and has led her down a path towards following a career in the fashion industry. She hopes to translate her knowledge of style and trend, along with her passion to construct clothes, into a career in the fashion industry.