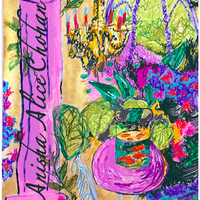 Anisha Chohan
BA (Hons) Textiles in Practice 2020
My practice is constantly driven by optimism, and my work celebrates joyous memories and feelings I have experienced. I believe colour creates happiness within, therefore it is a major characteristic in my work in demonstrating feelings of optimism.
My mind is a chaotic bundle of thoughts and colourful craziness and I sometimes struggle to express myself using words. Through my art, I am able to freely draw from my imagination and visually express my happy feelings, with a hope that my work is able to take the audience away for a moment, to a crazy, more enthusiastic world.
Drawing is the centre of my textile practice, my fluid drawings have a sense of surrealism, distortion and playfulness. As well as my imagination, my drawings include reference to joyful recollections, ranging from holidays, immersive gallery visits or even a refreshing cocktail at a London bar. Memories and images of collective ephemera, such as postcards, tickets and pamphlets, all intertwine into my drawings.
My body of work includes both original artwork and prints for fashion. I have created a collection of placement prints, in order to generate a wearable state of happiness.
Through my artwork I want to spark happiness, as everyone deserves a little bit of fun in their lives.
Contact Anisha