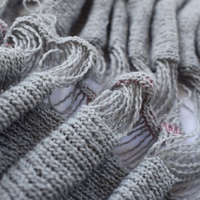 Lydia Collins
BA (Hons) Textiles in Practice 2020
Specialising in knit, Lydia focuses on creating knitted samples for Womenswear, using both domestic and dubied knitting machines. Engaging throughout the year in multiple projects of both self-directed and live briefs has allowed her to develop a portfolio of knit designs for fashion, focusing on colour and yarn research. Lydia creates diversity by exploring both commercial and directional samples through a range of different projects for both Spring/Summer and Autumn/Winter.
The final collection of samples are based on the project title 'Interruption' and explore how this word can be communicated through knit techniques to form an Autumn/Winter collection.
Similar to previous projects, work is formed from initial key words and developed through drawings and the experimentation of techniques. The Womenswear season is reflected through varied yarn choices and there is a strong focus on yarn properties and proportion of colour within each sample.
Each final sample has an element of interruption within it, explored through the application of colour, techniques and materials. Interruption is shown by changing the structure of the knit to manipulate shapes or interrupt the patterns created through the use of ladders. E-wrapping creates interruptions on the surface of the samples by considering the composition of colour.
Lydia focuses her work on the properties and techniques of her knitted fabrics, but communicates the context of her work through fashion illustrations, as her strength lies in the translation of the knitted sample into a silhouette suitable for high end fashion. Each concept is explored fully, as her samples are manipulated and adapted in relation to the different project scenarios, presenting complete and resolved projects.