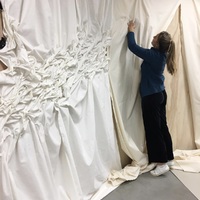 Anna Fowler
BA (Hons) Textiles in Practice 2020
The core purpose of my practice is to propose a compelling argument as to why heritage crafts skills deserve recognition. Throughout my final year I have used this passion as a driving force behind my work and contextual practice.
I have won a large-scale commission with Virgin Atlantic and STAC Architecture for my work with smocking techniques; categorised as an endangered craft by The Heritage Craft Associations Red List of Endangered Crafts. One of my favourite aspects of the brief is to have had access to a decommissioned Virgin Jet, and the opportunity to recycle the seat fabric. This exciting journey will be fully documented on social media!
Alongside my commission work I have run my own practice as a specialist in hand embroidery. I have hosted Heritage Craft Workshops with the intention of teaching valuable craft skill to a future generation of makers and spreading awareness of issues affecting the craft industry. As well as promoting thriving successful craft business. Other projects like Documenting Stitch have been focused on my hand embroidery specialism curating large fabric sketchbooks filled with vast ranges of hand embroidery stitches that I have been learning throughout my degree. My intention is to become a freelance embroiderer working to commission and other creative roles - please contact me with any queries through email or social media.