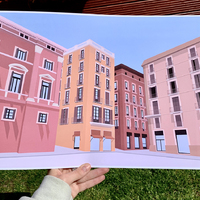 Meg Giannasi
BA (Hons) Textiles in Practice 2020
As a textile print designer, I am inspired by my love of travel and this has been a key influence in my work over the past three years at Manchester School of Art. As I have developed my practice, it is specifically the images of architecture, collected from different cultures during my travels, that have inspired my collections - both in terms of their colour and detail. My process involves drawing from my own photography and then digitally 'redrawing' to create one-off compositions. I aim to turn my personal passion into prints that people would like to purchase.
I like to combine both traditional hand drawn elements and contemporary digital elements. I am very interested in digital printing techniques and have worked towards building strong skills within this specialism. I like to experiment with colour combinations, which in turn allows my work to appeal to different types of audiences. With this in mind, my work this year has focused on enhancing my portfolio to be consumer-focused, and developing my abilities as a designer.
My intentions post-graduation are to develop as a textile print designer, both within my own practice and by gaining experience within the industry. I aim to undertake commissions and welcome all opportunities to improve my practice and grown my own small business.
Contact Meg