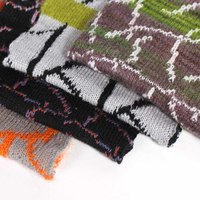 Beck Banks
BA (Hons) Textiles in Practice 2020
Beck Banks is a textiles designer specialising in knitted fabrics and material exploration. They like to explore processes from both Dubied and domestic machines and combine with techniques off the machine. The core values of their practice is fibre-based and the pursuit of technical skill, with a keen interest in the use of colour.
The concept of ambiguity and a differing sense of perception has been the main influence over their final year work, culminating in a range of samples designed for a gender-neutral fashion context informed by their contextual references. The colours for "Ambiguity" originated from a combination of the genderqueer and non-binary pride flags, which was developed further through sketchbook and photographic exploration.
Fundamental to Beck's practice is the integration and experimentation of traditional machine and hand knit techniques, exploring intarsia, cables and hand knitted stitches in conjunction with crochet, working both on and off the machine. They also explore finishing techniques such as felting, brushing and overdyeing; maximising the properties of the yarn they are working with.
In future they hope to pursue further skill development and opportunities in the technical field and eventually complete a MA in a knit specialism with an interest in creating new fabrics utilising wool based fibres and pushing their capabilities; bridging the gap between traditional and modern techniques.
Contact Beck